Our Activities
A RATIONAL MANAGEMENT OF OUR WATER RESOURCES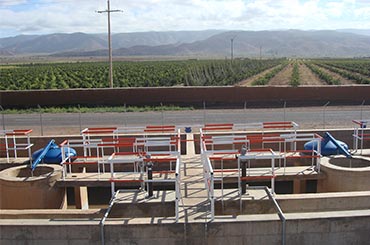 OUR - SEBT EL GUERDANE - IRRIGATION PROJECT
As part of a public/private partnership Nareva has developed the El Guerdane zone irrigation project.
In addition to protecting the citrus groves, the Aoulouz/Mokhtar Soussi dam complex helps rebalancing the underground water resources, through the mobilization of an alternative resource, namely by regulating the surface water.
This facility serves 600 farms, for an annual allocation of 45 million m3, on an irrigated area of 10,600 hectares.
Held by the Amensouss subsidiary, this project was initiated in 2005 with the execution of the "delegated management agreement" implemented with the Ministry of Agriculture. Its commissioning has been effective since 2009.
OUR DAKHLA DESALINATION PROJECT
Due to the country's current water stress situation, water is becoming a precious commodity that must be handled sensibly, sustainably, and profitably.
With this, Nareva hopes to meet the rising demand brought on by climate change, population growth, and growing urbanization.
Thus, the Nareva/Engie consortium was selected and proclaimed provisional contractor in 2019 for an innovative hybrid project in the region of Dakhla, after a call for proposals issued by the Ministry of Agriculture, Maritime Fisheries, Development, Water, and Forests.
The goal of this public-private partnership project, which includes a wind farm with a capacity of 40 MW and a seawater desalination plant with a daily output of 90,000 m3, is to contribute to the growth of the region's economy through the provision of both proven expertise in wind power generation and conformity with the National Water Plan.